Contact Management
Love your real estate software with iDashboard
A
dd all of your contacts into iDashboard, and organise them based on the different types of categories they belong to. You can easily add as many different custom categories as you need based on how your company tracks client types or how you wish to track them.
iDashboard supports both people and company contact types. You can also assign people to companies, which is great for solicitors or development companies in which you need both the company's details and employee's details.
With an iProperty hosted website, people who visit your website can subscribe to email alerts. You can access these website subscribers in iDashboard and view and update their details or even promote them from a subscriber to a fully-fledged contact.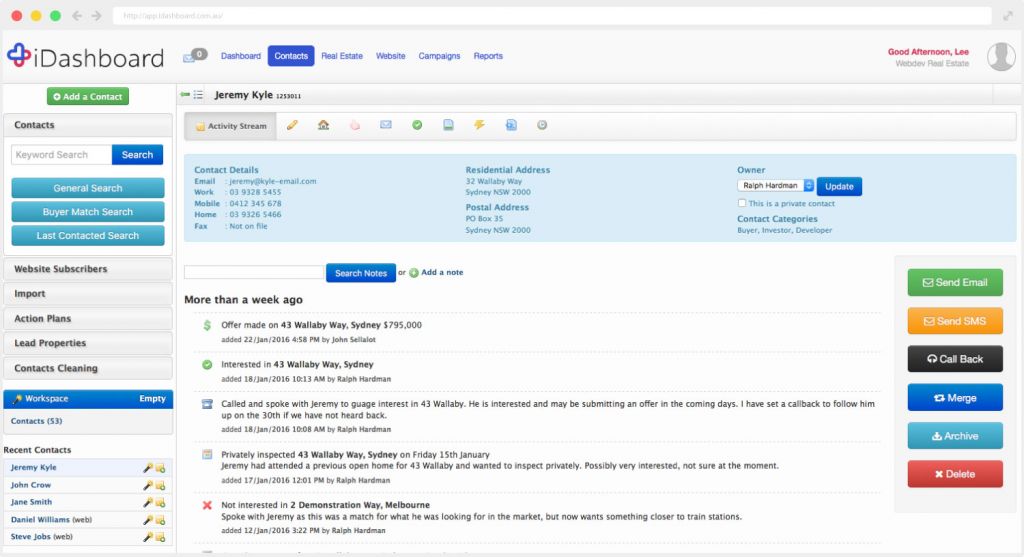 Contact Management that is
beautiful, easy, obvious.
Ready-to-go fields and custom fields
R
ecord and enter a swath of data for your contacts in iDashboard, such as their email addresses, source, addresses, phone numbers, partner's details, anniversary dates, etc. In addition to pre-populated fields, we also understand that offices sometimes require details from customers that are unique to that customer or unique to your business. iDashboard gives you the ability to create your own custom fields for contacts. When you create these fields, you are also provided a merge field so that this new data can be utilised in merged documents and email compositions.
Experience the Difference
Book a free iDashboard consult